The cold of approaching winter has finally sneaked into the knobs. Yesterday afternoon my brother-in-law came and turned on the gas heater. This morning the chill is gone from the hardwood floors, and Blackadder seems quite happy (he's been hinting for a couple of weeks that we really need to turn on the warm!)
And even though snow is quite a ways off (if we get any this winter), I watched the blue flames dance and was reminded of two lovely "winter waltzes", both dear and familiar.
Emil Waldteufel, "Skaters' Waltz" (1882)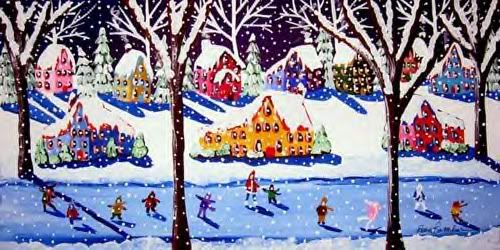 Pyotr I. Tchaikovsky, "Waltz of the Snowflakes" from THE NUTCRACKER (1891-92)
I can imagine dancing through falling snow, coming in breathless and rosy, to settle in with a cup of cocoa, maybe a freshly baked cookie, and a good book—while the snow goes on whirling outside and the flames dance inside.
Good place to be—even if it's illusory.
Later, dear ones. . .