I don't shop on Black Friday—never have. I don't like braving massive crowds, each individual flailing the air with lists, credit cards, or cash, for one thing, or traffic all going one way with snarling killers at the wheel who were, only the day before, smiling, laughing, and stuffed with Thanksgiving goodies and goodwill. Nor am I in favor of getting up at some godless hour without a darned good reason—something along the lines of the house burning, perhaps—or going home in shadowy dark among scurrying strangers who might—or might not—turn out to be cutthroats. Give me time to think, leisure to walk around without having to worry about being beaten senseless by savage elbows or constantly threatened by those lethal weapons known by the quaint name "shopping carts", and I'll browse and dream for hours—but not on Black Friday.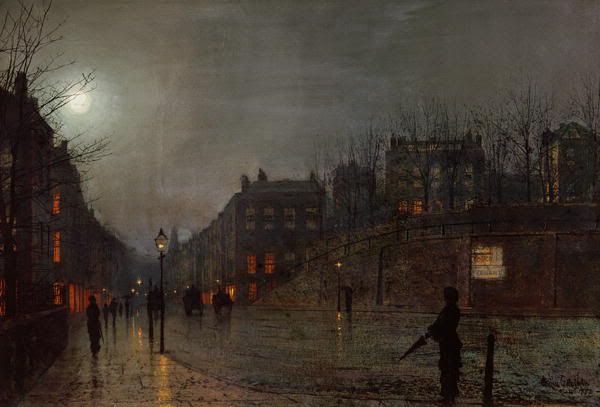 In short, the very idea of Black Friday, with its emphasis on sales and saving the retail sector from disaster, with fights over the last sale item or breakdowns over getting to said item a few steps too late, its innate and ineradicable commercialism, the lights and sales signs, brings out something—grinchy—in me: cynical, critical, and altogether not in the proper spirit of the season.
All of which may explain, by the scenic route, why one of my favorite songs come Christmastide is Gordon Lightfoot's almost Dickensian "Circle of Steel".
Rows of lights in a circle of steel
where you place your bets on a great big wheel. . .
Set among the poverty-stricken classes of some anonymous big city, "Circle of Steel" reminds us that Black Fridays are, far from being once-yearly orgies of spending and screaming that enable retailers to finish the year "in the black", dark and ugly everyday realities for some.
Two women form the core of the song: one an alcoholic whose doctor, "found on his welfare round", spends only the minimum time necessary with his patients; the other, the poor but honest wife of a man doing time because his "pride was his means to provide"—an almost sure bet that his pride drove him to some criminal act, rather than deal with the welfare system which is supposed to catch those in the act of falling through the cracks.
Violence implied?
"Deck the Halls" was the song they played
In the flat next door where they shout all day. . .
And yet, out in the street, no one is aware of this deadly cycle of poverty and hopelessness as they come and go on their business, their busy-ness an insulation.
Sights and sounds of the people goin' round
Everybody's in step with the season. . .
No, they aren't. No. . .they aren't.
The painting "Going Home at Dusk" was done by British artist John Atkinson Grimshaw in 1882.
Gordon Lightfoot originally recorded "Circle of Steel" for his album SUNDOWN in November 1973. Released the following April, the title song became arguably his most famous hit, while "Circle of Steel" remains relatively obscure. His version is not available online; this is a very good cover by Brian E.